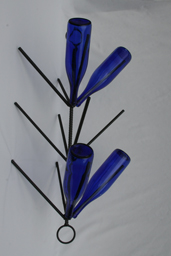 Bottle Tree Hanging Type
This rebar structure holds up to 12 bottles and is designed to hang from a tree limb or other suitable support.
It features a closed ring at the top for hanging and a closed ring at the bottom for a hanging basket or wind chime.
Approximate dimensions are 31 inches high x 12 inches wide.
Painted in gloss black, exterior enamel paint.